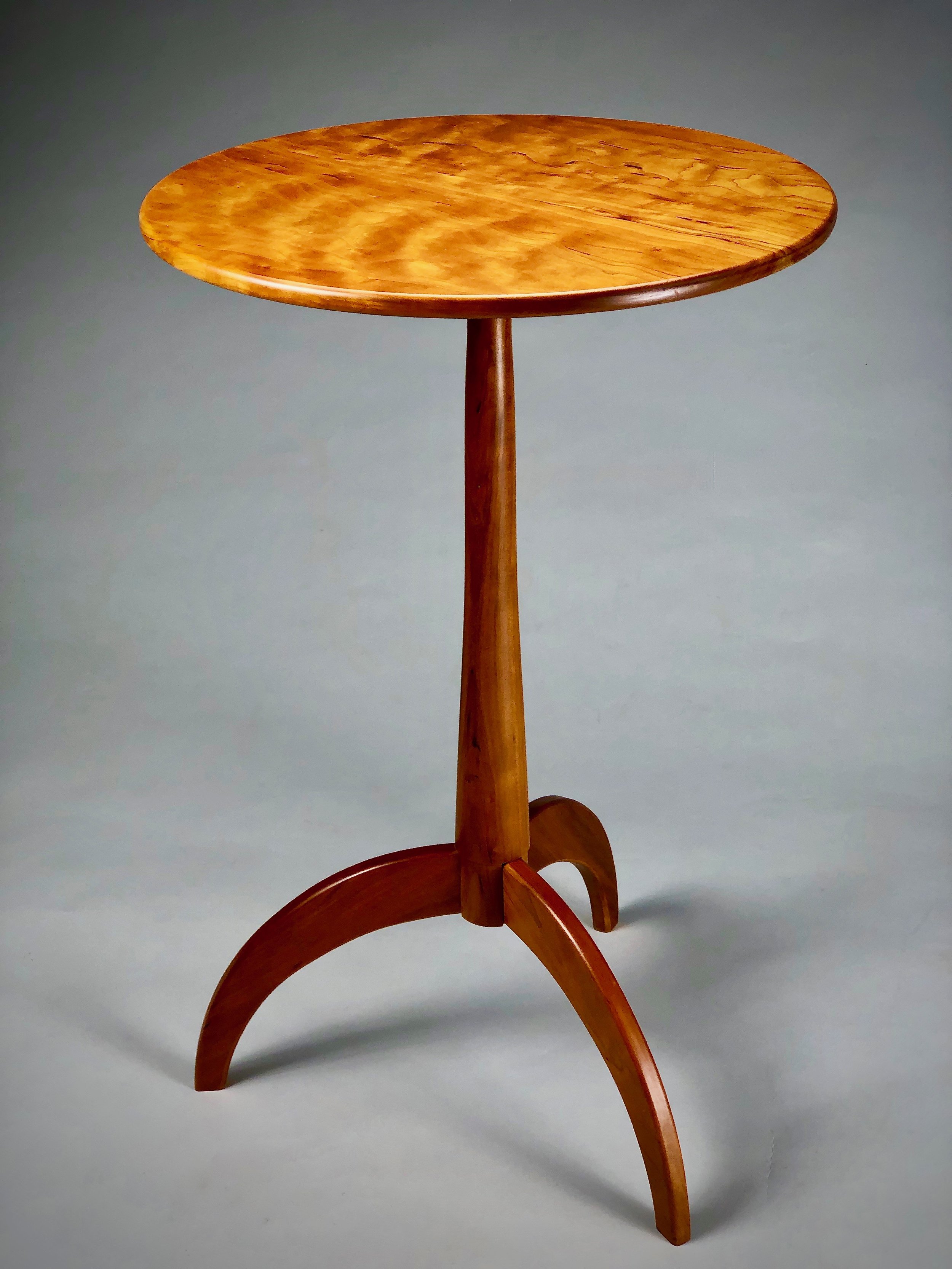 Cherry Pedestal Table
Instructor - Craig Stevens
February 15 - 17, 2020 9:00am - 4:00pm (3-day weekend)
Based on the clean, refined design of Shaker candle stands from the 1800s, the Cherry Pedestal Table course provides a great woodturning and joinery experience.
The table's elements consist of a 1/2" thick by 18" diameter top with eased edges. A turned disc connects the top to the pedestal base. The post is wine-bottle shaped, turned from an 8/4 piece of cherry on the lathe. While the post is still mounted on the lathe, participants will cut the dovetail-shaped sockets for attaching the legs, then cut the matching tails to complete the sliding dovetail joint. Some additional steps include fitting the turned tenon to the mounting disk below the top, cutting the round top itself and easing the edges, and shaping and tapering the legs.
This is a very satisfying project that allows students to practice and fine-tune a number of skills. The finished piece can easily be imagined as a side table, bed-side table or lamp stand and will shine in any room.
Cost includes all materials. Students provide their own lunch
Continue scrolling down for Tool List
PFW has a wide assortment of tools and turning tools for students to use. However, if you have your own tools or would like an excuse to purchase some new ones, the tool list is below. PFW recommends purchasing tools from Tools for Working Wood, Lee Valley/Veritas, Hida Tool and Hock Tools
Roughing gouge - 3/4" or 1" approximately

Spindle gouge - 1/2" or 3/8"

Square end scraper - 3/4" approximately

Parting tool

Skew chisel

Calipers
Marking knife - Two Cherries No. 63, Baishinshi or Hock #MK075 Spear point

Marking gauge - Tite-Mark 7" long marking gauge, or Veritas Micro Adjust marking gauge

12" or 6" Combination square - Starrett

Bench chisels (smaller 1/8", 1/4", 3/8", 1/2", 1" sizes are the most helpful). Ashley Iles or Fujihiro handmade Japanese chisels

Hammer - 10 to 13 oz

General purpose/Dovetail saw (western or Japanese) - Gramercy, Lie Nielsen, Lee Valley or Hida Tool Gyokucho #S-372 Japanese dovetail saw

Block plane - Lie Nielsen #102 or low angle Lie Nielsen #60 1/2

Pencil, notebook, safety glasses and hearing protection