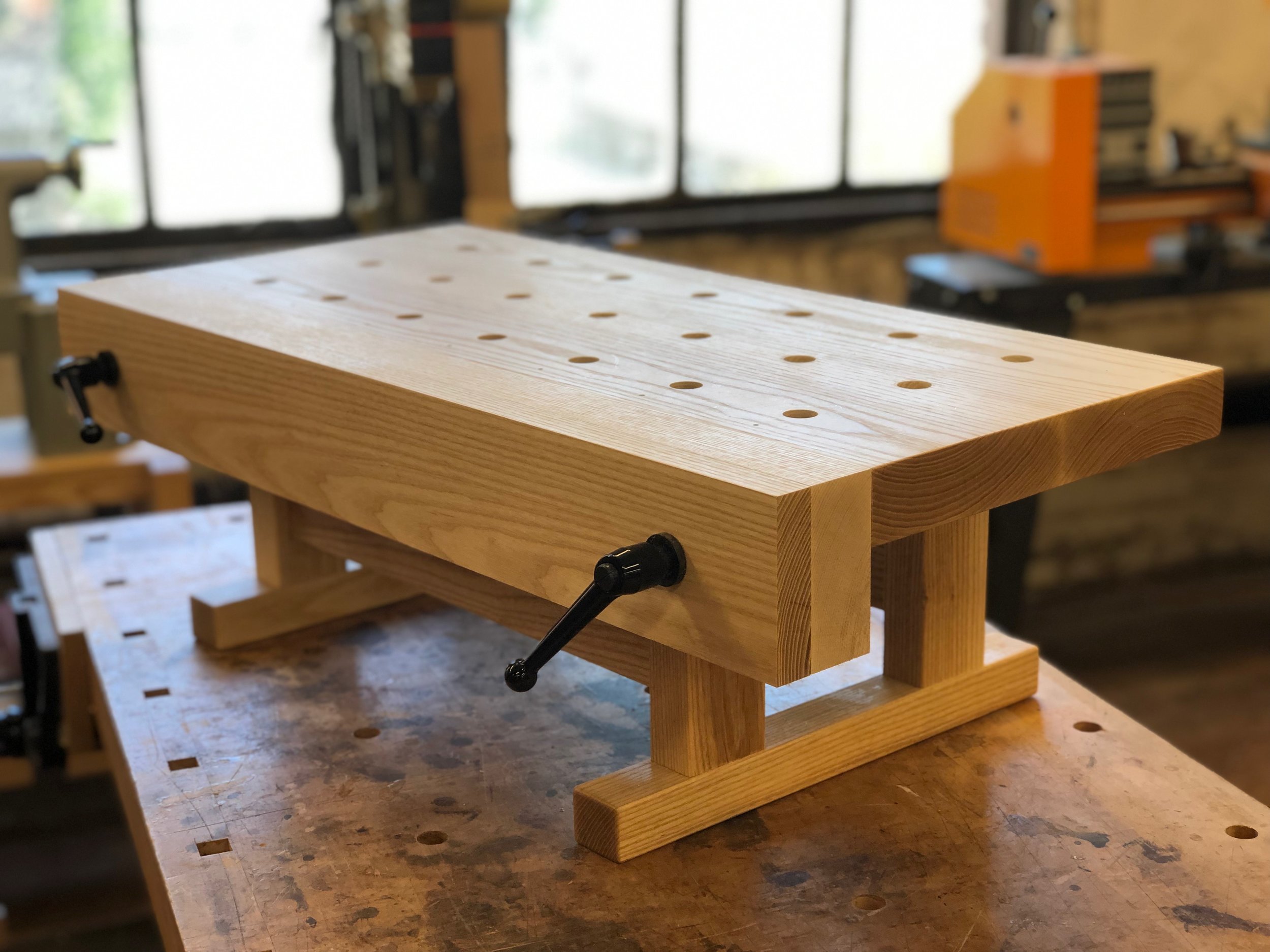 Bench on Bench
Instructors - Wayne Hommes and Doug O'Leary
October 26 - 27, 2019 9am - 4pm (weekend)
Many woodworkers don't have a dedicated workspace or live in a small apartment. Others work at a traditional-style workbench, which is a great height for hand-planing and sanding but may be uncomfortably low for other work. Whether working in a full-blown woodshop or in the living room, woodworkers need an excellent way to hold our work securely while we work on our projects. A small, portable workbench can save the day and prevent sore backs by elevating the work to a more comfortable height or turning a dining table or countertop into a workspace.
Our Bench on Bench is made of ash or maple, providing a very sturdy work surface for just about any woodworking activity. As it's shown in the photos, the Bench on Bench measures 31" long, 15" wide including the vise, and is almost 12" tall. The working height of the Bench on Bench on top of a traditional full-size woodworking workbench is about 45" and when attached to something like a dining room table, the working height becomes about 40" - making it comfortable to stand while working. Student can modify the height during the class, based on their specific needs. The vise adds a tremendous amount of versatility to the bench, making it easy to clamp work to the front or on the top surface. We're using Moxon vise hardware for the vise which adjust easily and holds the work very securely while allowing for quick adjustments. The Bench on Bench is particularly useful for cutting dovetail joinery and similar work. It positions the workpiece at a height that is easy to see and allows for a very natural, relaxed position for sawing and chopping with chisels.
3/4" holes in the top and vise jaws allow workpieces to be held in a variety of ways, whether with bench dogs facing each other or with aftermarket holding devices as shown. Lee Valley/Veritas Tools has a wide range of hold-down devices and accessories that fit the 3/4" holes (not included). We're hard pressed to have a situation where a workpiece can't be securely held in place. We love it and encourage everyone to take advantage of the class. It's portability allows it to be kept under a full-size workbench or stashed in a closet.
Cost includes all materials for the Bench on Bench (not including Veritas hold-down accessories). Students provide their own lunch.
Continue scrolling down for Tool List